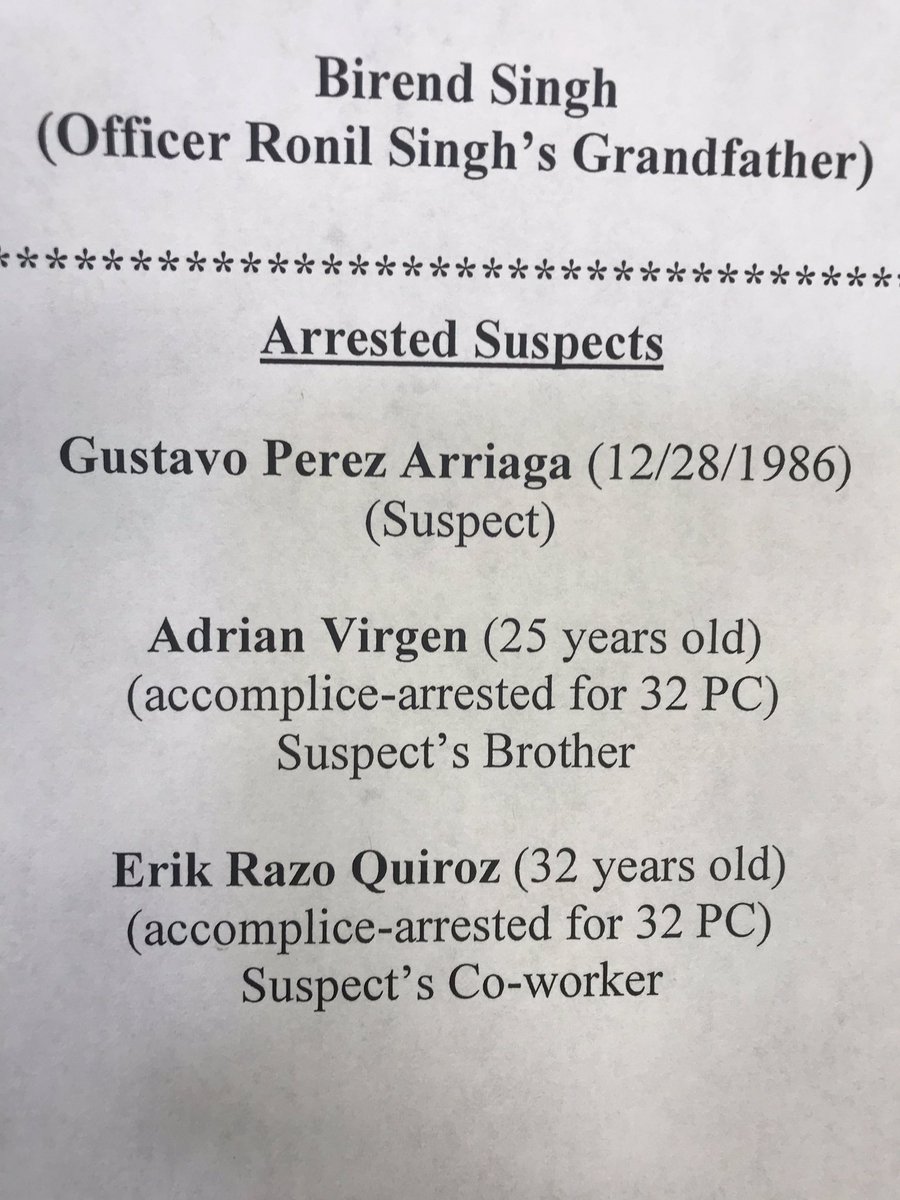 NEWMAN, Calif. --
Gustavo Perez Arriaga, the man accused of shooting and killing Newman Police Corporal Ronil "Ron" Singh has been captured.
A total of seven other people who, authorities believe, misled law enforcement about his whereabouts or aided him in fleeing were also arrested.
TIMELINE: Manhunt and arrest of suspected Newman cop killer
The Stanislaus County Sheriff's Office says that Arriaga was taken into custody, using Cpl. Singh's handcuffs, nearly 200 miles away in the Kern County town of Lamont early Friday morning.
The suspect's brother, 25-year-old Adrian Virgen, and a co-worker, 32-year-old Erik Razo Quiroz, were also arrested on "accessory after the fact" charges for attempting to protect Arriaga. Authorities say both men are also in the country illegally.
Another brother of Arriaga, 34-year-old Conrado Virgen Mendoza from Chowchilla, and Arriaga's girlfriend, 30-year-old Ana Leyde Cervantes of Newman, were arrested on Friday for aiding Arriaga in evading authorities following the murder of Corporal Singh, Stanislaus County Sheriff's Department said on Friday night. Their booking photos were released, along with that of Arriaga.
Kern County Sheriff's Donny Youngblood said that three additional people were also arrested in the South Valley for aiding and abetting Arriaga.
RELATED: How agencies across California came together to nab alleged cop-killer Arriaga
Stanislaus County Sheriff Adam Christianson says that Arriaga was attempting to make his way to Mexico when he was arrested. He was found at a house in Lamont, California that was being monitored by law enforcement.
RELATED: Officer's death could be avoided if not for California's sanctuary law, says sheriff
According to Kern County Sheriff, when SWAT deputies surrounded that home, Arriaga surrendered without incident. Three additional people were arrested from the house for aiding and abetting, they include 59-year-old Bernabe Madrigal Castaneda, 36-year-old Erasmo Villegas and 57-year-old Maria Luisa Moreno.
Sheriff Christianson says that Arriaga was a member of the Sureños street gang and had been arrested twice before on charges of driving under the influence of alcohol.
The Sheriff said that Arriaga crossed into Arizona from Mexico illegally a couple of years ago and it is believed that he had been working on farms in California's Central Valley.
VIDEO: Brother of slain cop tearfully thanks deputies after arrest
Arriaga is accused of killing Corporal Singh when he conducted a traffic stop on Arriaga's pickup truck in the small town of Newman early Wednesday morning, for suspicion of driving under the influence.
As he pulled over the vehicle, Corporal Singh described it to dispatchers as a silver Dodge Ram with paper plates from AR Auto, a dealership in the city of Merced.
RELATED: Vehicle of suspect who allegedly killed Newman Police Corporal was sold in Merced
Moments later, Singh called in for shots fired.
Several deputies from both Stanislaus and Merced counties responded, where they found the truck and suspect gone and Corporal Singh lying on the ground. He was rushed to a nearby hospital but died from his injuries.
RELATED: Witness records scene after Police Corporal is shot in Newman
That set off a statewide search for the suspect and his truck. Law enforcement quickly released surveillance video from a store showing the suspect.
The truck
was found outside the city of Newman in a mobile home park
on Wednesday afternoon, but the suspect was not found in the area.